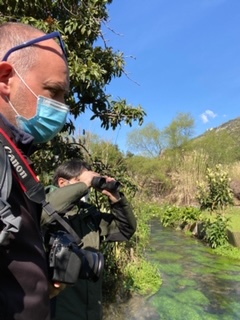 ---
For the #worldwaterday the team of Greenchange project went along the headwaters of the Ufente river, one of the most important natural waterways in the Pianura Pontina, Italy.
Greenchange is working on the river restoration of a section of Ufente. The partner Cirf, with the collaboration of the naturalist Giovanni Mastrobuoni, has started the monitoring on lake Pani, an area affected by the project.
---
"We will operate following the European Strategy for Biodiversity and we will try to bring Nature back into our lives."
This is the message of Giuseppe Dodaro of CIRF.
---
CIRF, the Italian center partner of Greenchange, born in 1999 to foster and promote the culture of river restoration in Italy.
With his partner, Greenchange would like to give bach more space to the natural diversion of waterways, rebuilding habitats, recreating wetlands, renaturalizing the canals and intervening with eradication of weed vegetation.
Read also: GREENCHANGE starts the works in the Agro pontino